Classic Redux
A fresh take on the iconic original WPtouch theme.
Classic has been re-designed and re-engineered for the modern mobile web. Structured content layouts and powerful header navigation make Classic one of our most popular themes.
Customize Classic with your own colors and type, and personalize its iconic mobile web design. Flexible options and support for nearly all of WPtouch's features, Classic is truly timeless.
Imitated but never duplicated
Classic defined the standard for mobile WordPress websites.
No other mobile solution has had more impact on mobile design for WordPress than WPtouch & its Classic theme.
Customizable Header

Flexible options to show tags, categories, menus, and search.

Color Up

Classic's header morphs automatically depending on the colors you choose in the Customizer.

Menus

WPtouch menus support hierarchy, WordPress custom menus, and the ability to assign icons to menu items.
Edit Live.
WPtouch Pro 4 themes support visual, real-time editing in the WordPress Customizer.
Live Preview

Tinker, adjust and preview your changes in real-time.

Discover Control

Well-organized settings allow you to discover all of your theme's capabilities easily.

Device & Orientation

Easily switch between portrait and landscape views, and in tablet-supporting themes, see how themes responsively adapt.

Extensions

Extensions like Advanced Type and Related Posts add Customizer settings enhancing your control.
WPtouch Theme Features
All themes include deep WordPress integration, and support for all WPtouch extensions.
WordPress Features
Product Features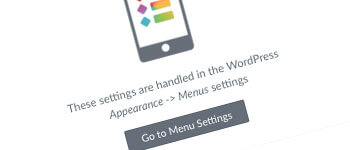 Custom Menus
WPtouch supports using custom WordPress menus, and adds the ability to associate icons with menu items.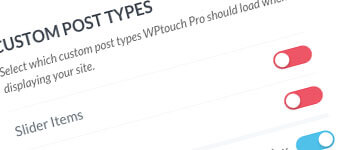 Custom Post Types
You can activate custom posts types to be shown within WPtouch.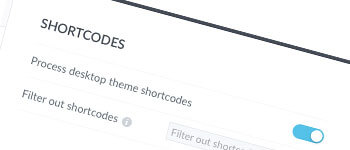 Shortcodes
WPtouch can attempt to locate shortcodes used in your desktop theme and display them.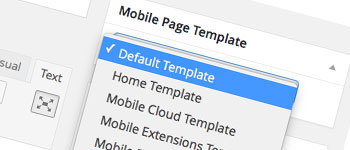 Mobile Templates
Want to use a special template for a page in WordPress? Just like desktop themes, you can apply a mobile template.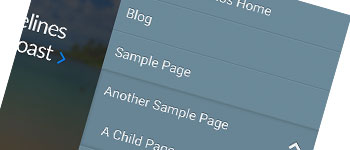 Posts & Pages
WPtouch displays posts and page content automatically with zero configuration.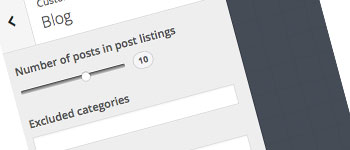 Taxonomy
Categories, tags, custom taxonomy— WPtouch themes can display it all.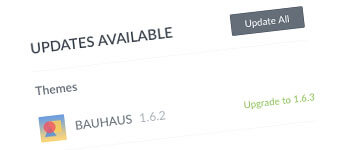 Updates
Enjoy regular product, theme and extension updates within WordPress, and the plugin itself.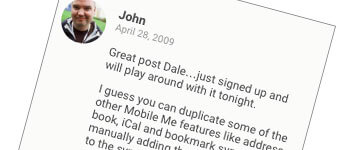 Comments
Most themes support all native discussion features.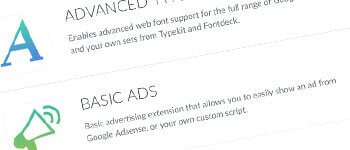 WPtouch Extensions
Get more out of themes by adding extensions to your license. Extensions enhance themes in specific ways.
Child Themes
Want to customize a theme? Easily create a child theme and start modifying style & template code.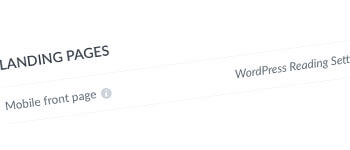 Redirects
WPtouch can redirect users to a difference front page and posts page if you wish.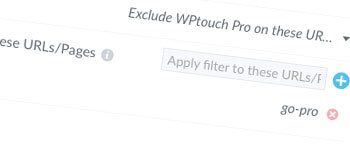 Include / Exclude
Choose to include or exclude WPtouch from showing on URLs on your website.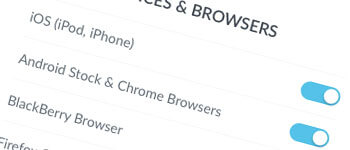 Browsers & Devices Control
Enable or disable mobile browsers and devices by type easily.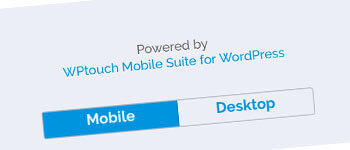 Theme Switching
All themes offer the ability for visitors to switch between your mobile and desktop theme.
Disable Other Plugins
Speed up load times by unloading non-essential 3rd party plugins on mobile.
Video & Image Handling
WPtouch automatically handles the mobile-sized display of video and photos on your website.